When a person Passes Away
We completely understand how difficult it can be when a person passes away, especially when you do not know what to do next. If you have any questions you can call our team at any stage. Below is also a helpful checklist to guide you.
1.
Make sure a doctor has certified a cause of death
When a person dies, you will need to obtain a medical certificate cause of death. If the person died at home you should call their doctor, who will visit to determine a cause of death and issue you with the medical cause of death certificate. If they died in a hospital or a care home, then the medical staff here will take care of this for you.
If you have decided on a cremation funeral, then it is best to let the doctor who is completing the medical certificate know as additional forms need to be completed for a cremation to take place.
2.

Contact a funeral director to collect the person
Once a doctor has verified the death and a medical certificate cause of death has been provided, then a funeral director will be able to collect the person who has died and bring them into their care.
We are available 24/7. You can call our team anytime on
0203 095 2916
3.

Inform next of kin and anyone else who may need to know
It is important that you inform the next of kin (if this is not you) as soon as possible, together with anyone else who may need to know, such as family and friends.
When someone dies, it's a legal requirement to register the death within 5 days in England. You can register the death at your local registrars office who will issue you with a death certificate and also a 'Green Form' which is a certificate for burial or cremation and will be required by your funeral director. To find your local registrars enter your postcode here https://www.gov.uk/register-offices .
We would recommend requesting multiple copies as these will be required for key stakeholders when dealing with the estate.
Local authorities are now able to offer registration of a death over the telephone. You should call your local registrars office to confirm. Our team can provide support and advice for registering the death. Please call on
0203 095 2916
5.

Start making the funeral arrangements
Every person is unique and their funeral can be too. Nowadays there is a wide selection of option available. Our team will support you through every step, meet you on your own terms and help you to create a truly meaningful funeral.
6.

Use the governments 'Tell Us Once' service
The Tell Us Once service allows you to inform all the relevant government departments when someone dies. After you register the death, the registrar will let you know if the service is available in your area and provide you with the contact details. If it isn't available you will need to contact these organisations yourself. 
The Tell Us Once service will contact:
7.

Make Arrangements For The Estate
You will need to check for a will if you haven't already, as this should name the person responsible for dealing with the person's finances. If there's no will, the intestacy rules will determine how the estate should be managed.
Next, you should find out whether you need to carry out probate. Probate is the official process of dealing with someone's finances, property and assets after their death.
8.

Start to cancel any contracts in the person's name
There are a number of organisations you will need to contact yourself to cancel any contracts. These may include banks, gas or electric companies. In time, you may also wish to look at closing social media accounts, some of which can be memorialised after a person's death.
Speak To Our Funeral Adviser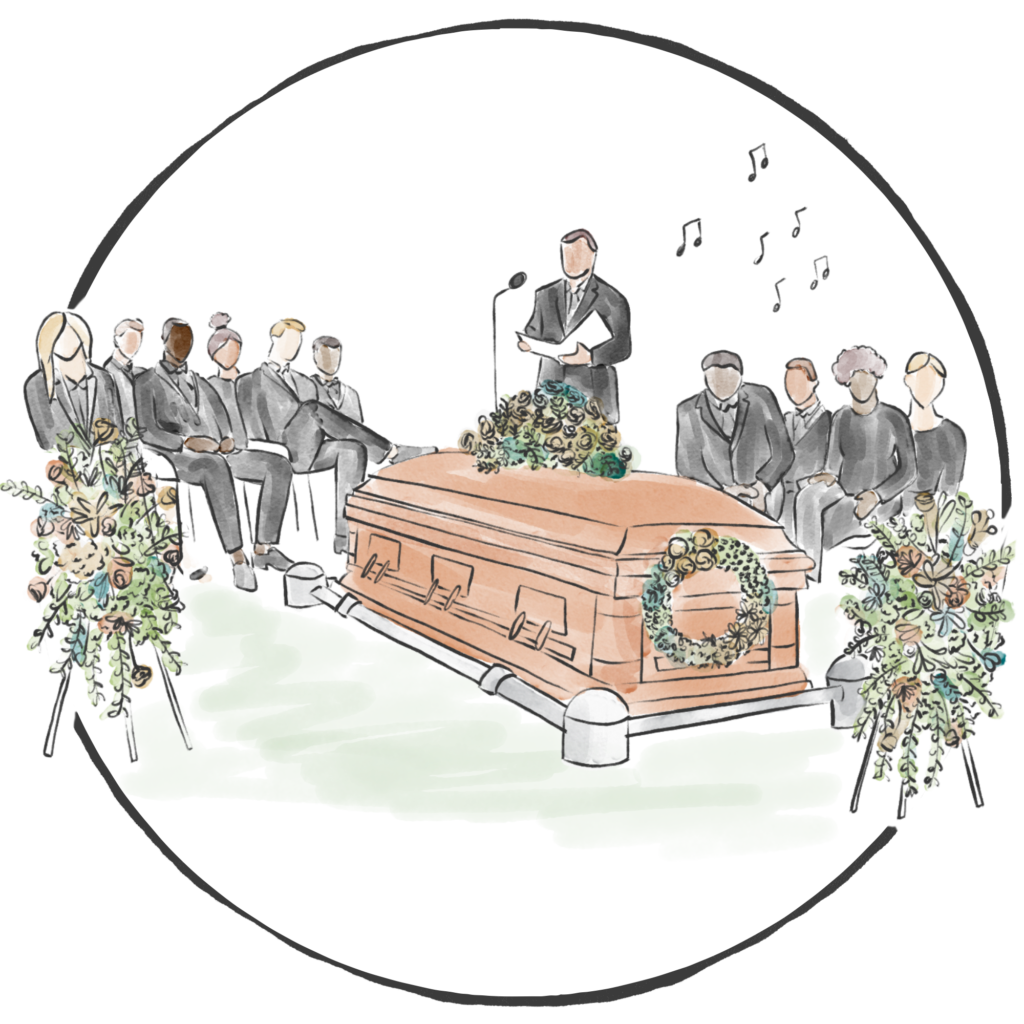 With a service in the cemetery chapel or other chosen place of worship